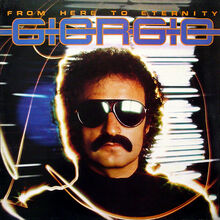 Giorgio Moroder (b. 1940, Italy) is a producer, songwriter and musician famous for electronic and synthesiser based disco music produced at the end of the seventies with artists such as Donna Summer, Sparks and under his own name.
_
Links to The Human League
[
]
Moroder's work in the seventies, in particular Donna Summer's "I Feel Love", was a major influence on the early Human League. After The League's mainstream success in the early eighties, Moroder would contact Phil Oakey in order to record the hit song 'Together in Electric Dreams' for the soundtrack of the movie Electric Dreams. The couple would go on to write and record the album Philip Oakey & Giorgio Moroder in 1985, featuring the singles Goodbye Bad Times and Be My Lover Now.
Together in Electric Dreams has been included on several Human League compilations and is frequently performed live by the group.
External links
[
]